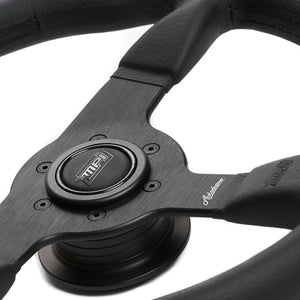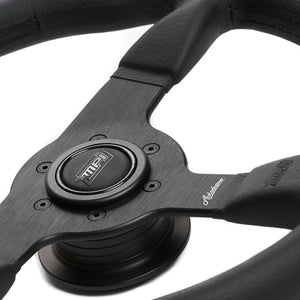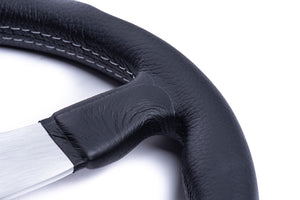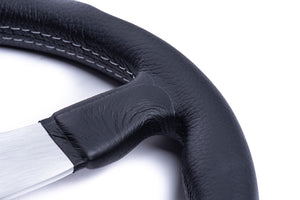 AUTODROMO 90
For the AUTODROMO 90 models, we wanted a sporty wheel while still keeping the period correct look that is visible in every detail.
To truly add to the ATDR 90 style, we used a more modern CNC milling machine that helped in creating the stylish round shapes that are the centerpiece of these models.
We researched the most beautiful top grain leather available and utilized a slightly more visible textured grain for this model. It's a fitting combination of ultimate ergonomics while retaining a classic grip.
Like the 80 series, all of the stitching in the 90 series edition is a mix between handcrafted techniques and period correct sewing machines.
Each of the ATDR 90 models come with a custom-made raised horn-button to match each available spoke finishing treatment ( Black silver ), and custom made bezel in addition to a set of 6 counter-sunk screws to create the period correct more modern look.
The Classic AUTODROMO logo is manually silkscreen printed in each spoke as well as an individually engraved serial number to make each wheel a ONE of a kind product. 
All AUTODROMO products have an MPI VERA PELLE added a tag for authenticity purposes and comes in our vintage designed craft box.
Why buy from

BRAIDAN MOTORSPORT?

FREE SHIPPING
ON ORDERS $149.99+
Excellent
Customer Support

BEST CUSTOMER
REVIEWS
BRAIDAN MOTORSPORT
REVIEWS