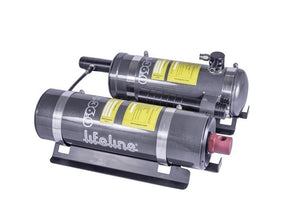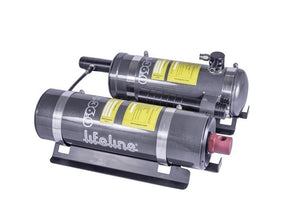 Fire Zero 3620 Engine Plus Cockpit Fire Suppression Systems
Lifeline Fire Zero 3620 engine plus cockpit fire suppression systems are among the safest, fastest, most advanced and validated products available to competitors. Twenty years of experience, knowledge, continuous improvement, testing, and real-world customer feedback have been put into them. The units also received independent validation from the FIA, BSI, and the UK MOD. Using a combination of 3M Novec 1230 and an AR-AFFF extinguishing blend, both performance and ease of installation are ensured. Suppressant is discharged through one high-flow nozzle in the cockpit and three in the engine bay.
For proper driver/co-pilot safety and FIA-compliance, all Lifeline Zero 3620 systems are described by cockpit volume. Due to mandated ballast being built into these smaller systems, there is no weight advantage across the 3620 range. Order the Lifeline Fire Zero 3620 fire suppression system best suited for your application.
Kits include:
* Cockpit nozzle fitted either directly to cockpit bottle or on 1 meter hose
* 3 engine nozzles (2 foam spray bars and 1 HD nozzle)
* FIA-complaint bracket and straps
* Tubing (10mm diameter in cockpit; 8mm diameter in engine bay)
* Bulkhead, straight, and T-connectors (1 each)
* Intelligent control box
* 2 waterproof switches
* Wiring for switches and control box
* Suitable for use in all FIA categories, but mandatory for the following: WRC; R5, R3 and R2; WRX; GT3; T1; RG-T
Why buy from

BRAIDAN MOTORSPORT?

FREE SHIPPING
ON ORDERS $149.99+
Excellent
Customer Support

BEST CUSTOMER
REVIEWS
BRAIDAN MOTORSPORT
REVIEWS