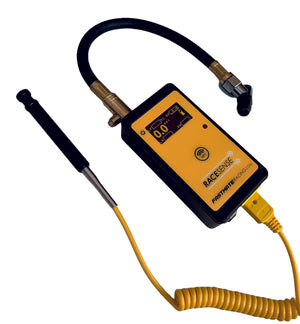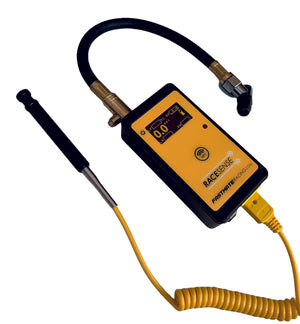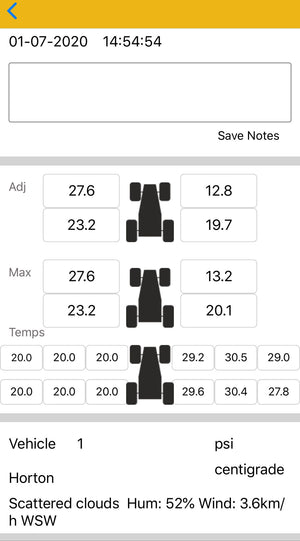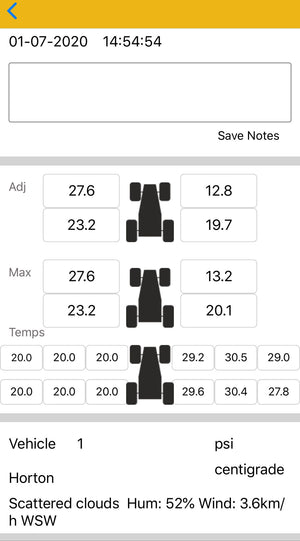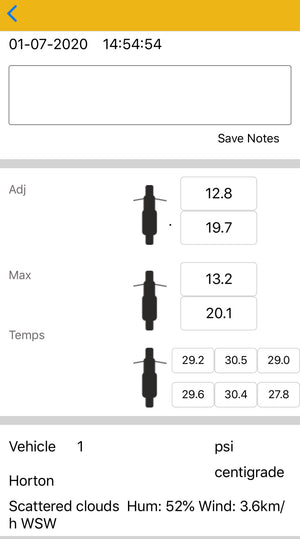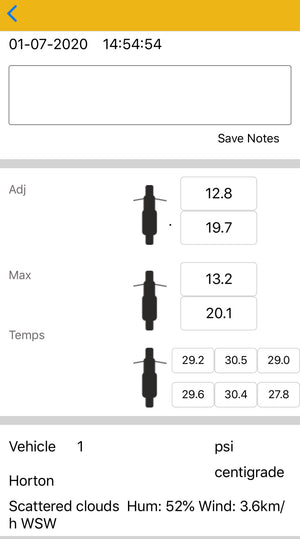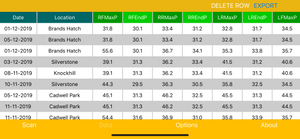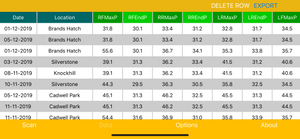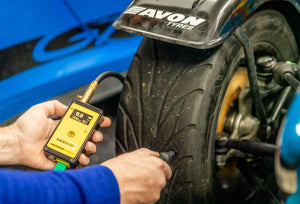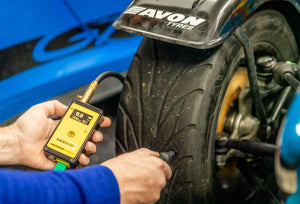 Professional Tyre Pressure Gauge
RaceSense Professional Tyre Pressure Gauge- Accurate to 0.1 PSI with phone apps
The RaceSense Tyre Gauge has been designed to save you time in the pits and on the track.
Tyre pressures are critical to performance but the majority of gauges can be out by 1 to 2 psi or more. RaceSense Tyre Gauge is a high-quality rugged gauge that's as accurate as those used in the highest echelons of motorsport. 
Accuracy better than +/-0.1 psi*
Rugged metal case and water resistant
Normal Gauge & fast Multi-Tyre modes
Sync to iPhone, Android or computer
Socket for type K thermocouple probe for temperature measurements (probe not included)
Accurate
Accurate to 0.1 psi
Range up to 100 psi
Switch between psi, bar, kPa or kg/cm2
Automatic tyre mode records initial pressures (max) and adjusted pressures
Ambient temperature and barometric pressure
Multi-tyre mode
RaceSense has a multi-tyre mode which is a real game changer for quick pit stops. There is no need to remember or write down pressures.
Record pressures on all tyres without pressing any buttons
Starting tyre and direction can be preset (anticlockwise/clockwise)
2 or 4 tyre mode
Record tyre temperatures (inner, middle, outer per tyre) with thermocouple probe
Set car number
TO USE: Just fit the chuck on first tyre valve, adjust pressure until correct, move onto next tyre, adjust pressure etc, etc.
After all tyres have been measured the data will be saved automatically with time and date and ambient temperature and can then be exported. Initial and adjusted pressures are all recorded. If a thermocouple is used then tyre temperatures are also saved. Our iOS and Android smartphone apps will add location, atmospheric pressure and weather.
Sync to your phone
Racesense Tyre Gauge has a built in phone link, tap to your phone and view the data in the app. No pairing is needed and the upload takes less than a second.
Shows maximum and adjusted pressures for each tyre
Temperatures from inner, middle and outer of each tyre and ambient temperature
Auto-senses GPS location when downloading
Auto-senses weather conditions, atmospheric pressure, wind speed and wind direction
Add notes, edit location
Export data to CSV file
NFC enabled phone required: Phone 7 and above, Android 5.5+ with NFC. Apps downloadable from the App store and Google Play.
No phone available? No worries, RaceSense plugs into a computer too so you can download a CSV file of your data. 
Want to keep your pressures secret?
Use OFFSET MODE to input your desired pressures beforehand. RaceSense will show the offset from these values rather than actual pressures on the screen.
Just adjust until you reach zero and no one will know what pressures you are running!
Designed for the rigours of track life
Die-cast powder-coated aluminium case
Brass tyre chuck is a secure and quick fit
Brass bleed valve lets you precisely adjust your pressures.
Polycarbonate screen
Stainless steel belt clip
Water resistant
Buttons are rubber sealed
Sunlight readable OLED display
USB connection for recharging, upgrading and data download (battery life > 3 months in standby or 24 hours continuous use).
CONTENTS: RaceSense Tyre Gauge, usb cable, manual, sturdy carrying case.
Why buy from

BRAIDAN MOTORSPORT?

FREE SHIPPING
ON ORDERS $149.99+
Excellent
Customer Support

BEST CUSTOMER
REVIEWS
BRAIDAN MOTORSPORT
REVIEWS