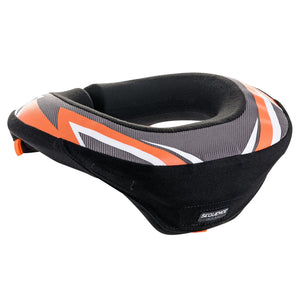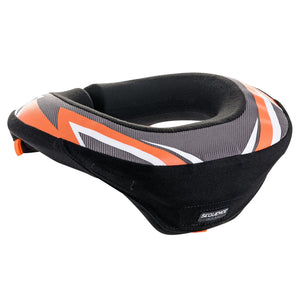 SEQUENCE YOUTH NECK ROLL
Specially designed for youth or smaller framed rider the Youth Neck Support functions when the helmet and support frame provide an alternative load path for the excessive energy that compresses the neck. If the helmet is in contact with the neck support at the moment of impact the overall load passing through the neck can be reduced, which may prevent a fracture from occurring and reduce the chance of muscular injuries from extreme head movement. Although it is not possible to eliminate the risk of any form of injury, the support has been proven to help reduce the most serious damage and minimize the risk of collateral injury as the impact load is channeled away from the neck.
NOTE: This product is compatible with our Alpinestars Youth chest protectors via integration using the Velcro / Elastic straps.
CONSTRUCTION
New hybrid children's neck protection with extended tail for position stability. Double density core is made from a soft PU foam base embedded in a hard EVA layer for energy dissipation.

Bottom and internal soft section (neck side) provides comfort for the shoulders and neck, a hard section on the upper part gives stability and provides force distribution when the helmet impacts.
PROTECTION
Category 2 PPE - EU 2016/425.
KEY FEATURES
Ergonomic designed and engineered shape to fit kids from 6-10 yrs. and from 10-14 yrs.
Easy to use soft strap closure on the front part.
Highly compatible with all other Alpinestars youth protectors and jackets.
External cover can be removed for washing by hook and loop grip opening on the rear.
Why buy from

BRAIDAN MOTORSPORT?

FREE SHIPPING
ON ORDERS $149.99+
Excellent
Customer Support

BEST CUSTOMER
REVIEWS
BRAIDAN MOTORSPORT
REVIEWS